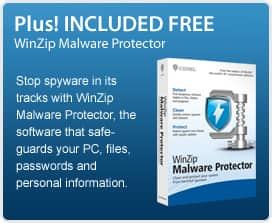 Hello,

If waiting for your computer drives you crazy, you're not alone. Research shows that waiting for computers has become one of our top daily frustrations. The question is, what can you do about it?

Surprisingly, the answer is simple. You need to declutter your computer, the same way you declutter your home. And with the help of WinZip System Utilities Suite, it can be just as simple.

WinZip System Utilities Suite is a set of easy-to-use tools that let you clean up and speed up your PC. It tackles the clutter on your hard drive caused by adding and deleting files, upgrading software, adding applications and drivers for hardware, and much more. With WinZip System Utilities Suite, you don't need to be an expert—or pay an expert—to optimize your PC.

Try it now: Download WinZip System Utilities Suite and run a complimentary performance scan to see what's slowing down your PC.

Or keep reading to learn more.

With WinZip System Utilities Suite, you get everything you need to keep your PC healthy and running at peak performance. Plus, you get a stress-free experience with software that does the work for you.

WinZip System Utilities Suite features a simple interface with an intuitive workflow. Many of the powerful tools offer one-click functionality and several of them can be scheduled to run automatically, keeping your computer optimized, even if you forget. It's an all-in-one system that makes it easy to keep your PC in top condition.


Top reasons to get WinZip System Utilities Suite
Includes 20+ tools to improve system performance.

With disk cleaners, registry optimizers, security and privacy tools, maintenance tools and much more, WinZip System Utilities Suite can restore your system to peak performance in a flash.

Get rid of the junk.

You can't see what's slowing down your system, but WinZip System Utilities Suite can. Let it scan your PC for you and find and remove the dead weight that's dragging down your system's performance.

Put a lock on your personal information.

Protect yourself from system crashes, security threats and data loss with tools that check your hard drive for errors, permanently delete private data and remove hidden privacy-exposing traces from your registry.

Accelerate performance.

Finally, you can stop waiting for your computer. WinZip System Utilities Suite's extensive optimization features organize your registry, defrag your disk, free up unused memory and fine-tune your system for the best possible performance. It does it all for you.

Say goodbye to frustration.

Tired of your system freezing and crashing? Or waiting and waiting for any response at all? WinZip System Utilities Suite frees up the memory you need, and automatically downloads and installs the latest drivers to keep your system performing optimally.

Back up and restore files.

It may not surprise you that WinZip System Utilities Suite has backup tools to help you save your important files and data, but what if we told you it can recover deleted files? The Undelete feature means you can recover accidentally deleted files. Now that's peace of mind.

Stay on track with regular check ups.

WinZip System Utilities Suite includes the tools you need for regular system maintenance. Try the Startup Manager to remove unnecessary programs and keep startup snappy. The Uninstall Manager makes it easy to remove unwanted programs whenever you wish and free up disk space.

WinZip Malware Protector at no extra cost.

Stop malware in its tracks with the software that safeguards your PC, files, passwords and personal information. Regular, automatic updates mean you're continually protected against the latest threats.


Don't let this exclusive opportunity to get WinZip Malware Protector at no extra cost slip away. And with WinZip's 30-day return policy, there's no risk.

Remember, this exclusive, limited-time offer is only available to WinZip System Utilities Suite users and will expire on June 3, 2023.

Repair, Secure & Optimize Your PC in 3 Easy Steps
| | |
| --- | --- |
| Step 1: | Download WinZip System Utilities Suite and run a complimentary performance scan to see what's slowing down your PC. |
| Step 2: | Fix the issues that are slowing down your computer with just a few clicks. |
| Step 3: | Enjoy a fast, efficient, like-new computer. |







This complimentary scan will provide you with a diagnostic report on how your computer's performance can be optimized. You will then be able to implement the improvements by purchasing the full version of WinZip System Utilities Suite.

Thank you for your support,

WinZip Computing
www.winzip.com
help@winzip.com